Don Dinkmeyer, Jr., Ph.D.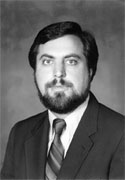 Don Dinkmeyer, Jr., Ph.D., NCC, LPCC, co-author of STEP, has conducted workshops across North America for over 35 years. He brings a practical, realistic approach to the workshop. Don explains some of the theory behind STEP-how it will help you be a better teacher to your parents. He brings a synthesis of effective tactics for your work with mandated, low-functioning, resistant, and "normal" families using the STEP programs. Don demonstrates the first session of STEP and shows three keys to getting groups started effectively.
James Dinkmeyer, M.A.
James Dinkmeyer, M.A., is co-author of Early Childhood STEP. He has conducted parent education for over 20 years in a wide variety of settings, including corporate and adoptive parent education classes. He is a licensed mental health counselor with a private practice as well as a consultant to athletes on maximum performance. He presents parent education programs at national and regional conventions. James, as well as his brother Don, were raised with the STEP principles and used them with his two children, now adults. Don and Jim co-authored the Basics of Parenting booklet, part of the Basics series, which supplements the parent education materials. James brings practical experiences and a sound knowledge of the STEP programs to the workshop experience.